(News Week)An open letter signed by 74 black church leaders issued a strong rebuke to evangelical Christian supporters of Donald Trump while praising the prominent magazine Christianity Today (CT) for coming out in favor of the president's impeachment.

Just over 80 percent of white evangelical Christians voted for Trump during the 2016 presidential election, according to polls. The president's support from the religious community has remained strong throughout his time in the White House, as he has cozied up with evangelical leaders and worked to confirm conservative justices to the Supreme Court while pushing forward policies targeting reproductive rights and the LGBTQ community.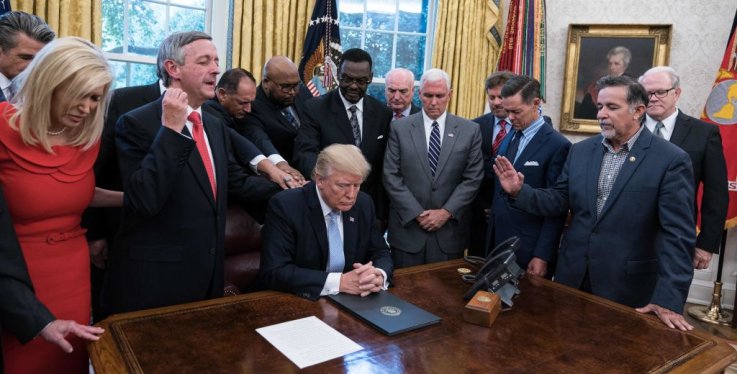 Despite Trump's strong support from many within the white evangelical community, CT's editor, Mark Galli, wrote an editorial backing Trump's impeachment by the House last month. While some Christians praised CT's decision, many prominent evangelical leaders signed an open letter condemning the magazine. Trump dismissed the publication as "far left," while some evangelical leaders argued it was "elitist."
But black Christian leaders praised CT in their open letter, which was published by the Religion News Service on January 10. They referred to Trump's evangelical backers as a "radical faction" that was in a "broken marriage" with the "extreme right-wing faction of the Republican Party."

"The late Billy Graham, CT's founder, gave us a loud warning in an article he wrote for Parade magazine in 1981, when he said: 'I don't want to see religious bigotry in any form. It would disturb me if there was a wedding between the religious fundamentalists and the political right. The hard right has no interest in religion except to manipulate it,'" the open letter said.
"This is what we're seeing today in 21st century evangelicalism: a broken marriage between a radical faction of the local church and the extreme right-wing faction of the Republican Party," the black church leaders warned. They noted that many young people are leaving the church because they see Christianity being "hijacked by those who are thirsty for political power."
The 74 signees said that Christian leaders supporting Trump are "complicit" in many of his most controversial policies, such as separating migrant children from their parents and "horrific" environmental policies.
"No, we cannot sit by the wayside and not respond with a counterargument defending the importance of truth and integrity. If truth no longer matters, then the church can no longer be the hope of the world," they wrote.
In his original editorial and subsequent interviews, Galli noted that he and many at the magazine were not opposed to many of the Trump's administration's conservative policies. However, he argued that the actions that led to the president's impeachment were "profoundly immoral."
"That he should be removed, we believe, is not a matter of partisan loyalties but loyalty to the Creator of the Ten Commandments," Galli wrote in his editorial.